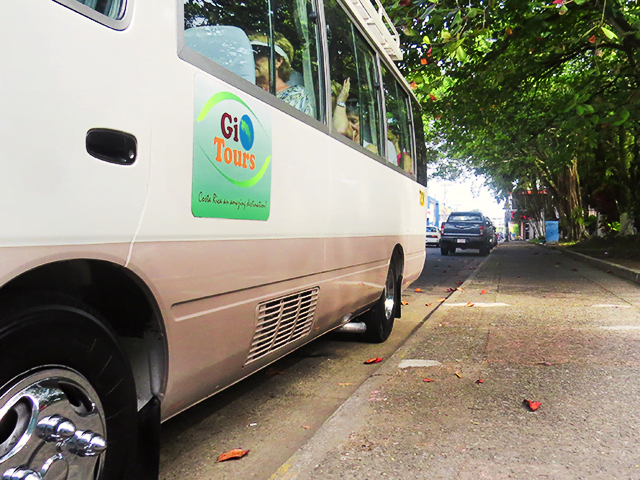 Our Featured Tours on the Pacific Coast of Costa Rica
The most popular and affordable shore excursion in Puntarenas
The one tour we do recommend the most is definitely, and by far the best way to see the Highlights of Costa Rica. It is a tour that gathers everything: The culture, the wildlife, the adventure and the history of Costa Rica. So if you are wondering about the best tour in Puntarenas Probably this is it! Good price, wildlife and the best attention!
It is a whole day that you will enjoy tremendously. And the best choice in Puntarenas!
Growing in popularity, the Monteverde Enchanting Cloud Forest is growing to be one of the most popular on the Pacific Coast!
Think about all your thoughts on the rainforest. The green huge trees, the ivies, the butterlies and birds, the mosquitoes, the giant moss carpets, the huge ferns, the humidity, the heat? Now, remove mosquitoes and heat and put some mystery, the magic of foggy light in the trees and you got Monteverde Cloud Forest! Out of the Puntarenas Tours, the Monteverde area is the most magical and mystical of them all.
Monteverde Cloud Forest is an amazing area prepared to be the highlight of your cruise!
Our Featured Tours on the Caribbean Coast of Costa Rica
As you might know in the Caribbean there are fruits that you can't find anywhere else
And even the regular fruits taste as well that seem to be different! So, we will have you try some of these nature delicatessens.
Afterwards we will go to at the very heart of the rain forest, along with our naturalist tour guide that will teach you about the zoology and botany of the tropical forest?s ecosystem. Looking for poisonous colorful frogs, amazing blue butterflies and fantastic rainbow colored birds.
As you depart the pier you will begin noticing the extraordinary in Costa Rica? The green. The luscious? The life!
It is a place full of life even in the pasture areas or the banana plantations, you will see how life here smiles and laughs at its own abundance!
You will be passing some towns on the way to the boats as your guide gives you a glimpse of the culture and history of this great country.
As you arrive to the dock, the boats will be waiting for you to hop on and start the real trip
Our Blog
Check our tips and ideas, news and stories of Costa Rica Tours and more, right here, at our blog!
Welcome to Paradise: Giotours Costa Rica Season Begins
Our first tours of the season A new season has arrived and the entire Giotours team could not be more thrilled to welcome back our adventurous visitors – from loyal returning passengers to first-time explorers ready to discover the captivating natural paradise that is Costa Rica! After months of preparation and tour development, we are …
Welcome to Paradise: Giotours Costa Rica Season Begins Read More »
Exploring Limon Port: 10 Must-Know Facts for Cruise Ship Tours
Natural Wonders Abound: Limon Port is your gateway to some of Costa Rica's most breathtaking natural wonders. The region is renowned for its lush rainforests, which are teeming with exotic wildlife and vibrant flora. Consider booking one of the many eco-tours available to explore the wonders of this biodiverse paradise. Don't miss the opportunity to visit Tortuguero National Park, known for its sea turtle nesting sites, or take a thrilling canopy tour to witness the stunning biodiversity from treetop heights.
For tours in Costa Rica of all types, there are many options Yes!… Then why would you take your tour in Costa Rica with GioTours? Well! Easy to answer!
1. Our Tour Guides
Our tours are very personalized, our guides are very knowledgeable and passionate about Costa Rica, but beyond that, they love their job! And they make GioTours tours in Costa Rica fun, different, authentic and a super personalized experience. Jesus, Adonys, Omar and others will make your day and your vacation!
2. Personalized Experiences:
We try to run small groups. However, it is impossible sometimes… You know! It happens! However we guarantee that our tours are very personalized, tour guides that are passionate not only about Costa Rica but also about attending passengers and their needs. We do care about each passenger even if it is a larger group
3. Personable Attention:
This is a personable company, Gian Carlo, guide, driver and owner will answer the phone and your questions easily. Angela, the sales manager, will be the one answering your mails. And Carlos our blog writer will be telling you the stories in our blog.
4. We go to places other don't go:
The best way to enjoy a tour in Costa Rica, either taking Puntarenas Shore Excursions or Limon Shore Excursions is to be with your party with a super personalized service, guide, and driver. And see the real Costa Rica! The places where large groups don't go, the regions that big companies don't visit. Tours in Costa Rica can be so thrilling! And so different from the usual!
5. BETTER PRICES:
We can give you the best tours in Costa Rica for the best rates, in Puntarenas as in Limon. We don't show our rates because we can negotiate them. Ask what you want, and we can talk. Puntarenas Tours or Tours in Limon don't have to be expensive, to take a good price tour with a good value, please contact us! You will not regret it!
6. Luxurious Transportation:
Be comfortable while enjoying a great tour in Costa Rica, either in Puntarenas or Limon. In both ports of call, you will find all sorts of buses. In ours, you will have great comfort and advantages as you can read on our Transportation page. The Puntarenas tours, as well as the Limon Tours, are done the most comfortable of vehicles
8. Certified by the Costa Rica Tourism Board:
There are tons of companies, huge companies, small companies, little one person companies. And they might all be honest, punctual and efficient. However, the certification by the Costa Rica Tourism Board will tell you the level of seriousness involved in the company. We are certified because we are compromised with your safety and your fun.
We are here for you! Write or call, we are ready to talk and fill your needs while in Costa Rica!