Our first tours of the season
A new season has arrived and the entire Giotours team could not be more thrilled to welcome back our adventurous visitors – from loyal returning passengers to first-time explorers ready to discover the captivating natural paradise that is Costa Rica!
After months of preparation and tour development, we are overjoyed to reconnect with our treasured guests and introduce new explorers to the wonders of this magnificent country.
From wildlife safaris and jungle escapes to fantastic wildlife encounters, – a journey with Giotours is an unforgettable experience we consider an honor to provide.
To kick off the season, we were delighted to operate two of our most beloved and quintessential Costa Rica Pacific Coast tours – the 8 in 1 Adventure and the Monteverde Cloud Forest.
The 8 in 1 Adventure truly offers the ultimate overview of Costa Rica's incredibly diverse landscapes all in one action-packed day. From dense jungles and rainforests tofantastic encounters with wildlife and the an immersion into the Costa Rican culture through the fruit stands and other experiences– this comprehensive tour has it all.
Walk among vibrant butterflies, taste authentic Costa Rican cuisine, go on a jungle safari river cruise in search of crocodiles and monkeys, and witness postcard-worthy vistas of the lush countryside. It's the perfect introduction to the natural wonders of Costa Rica!
For those craving an immersive jungle escape, we went to the Monteverde Cloud Forest Hanging Bridges tour that transports you into a misty world of exotic flora and fauna.
Passengers traverse high up in the clouds over hanging bridges looking for the resplendent quetzal or to hear the call of the three-wattled bellbird.
With an expert Giotours naturalist guide at your side, your knowledge and experience of this precious ecosystem will only deepen. The sheer biodiversity is astonishing.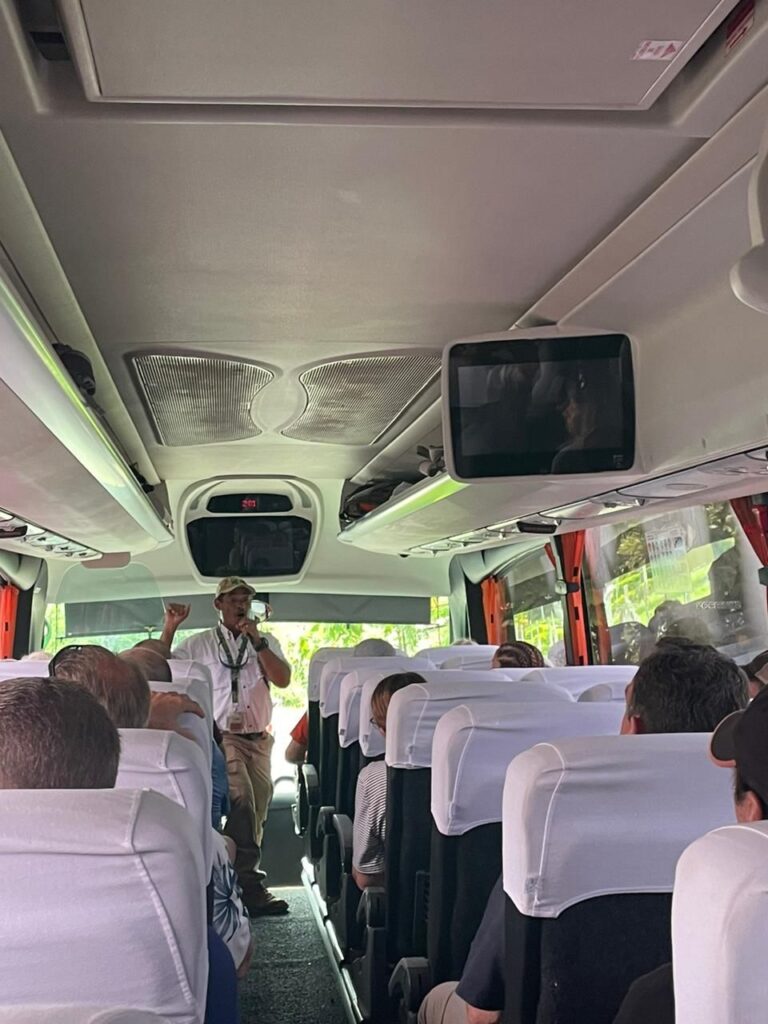 What the start of the season means for us
People in these communities rely on tourism, fishing, and agriculture to sustain their livelihoods. By traveling responsibly with Giotours, you directly support these communities while protecting fragile ecosystems for future generations.
We aim to provide immersive experiences that inspire travelers to advocate for green travel and get involved in conservation efforts. Together, we can preserve Costa Rica's extraordinary biodiversity.
Beyond our classic experiences, we have been hard at work in the offseason preparing brand new tours for the upcoming season. We are always listening to our guests and tailoring tours based on your unique interests and passions. Whether it's waterfall rappelling, a coffee plantation overnight stay, exclusive wildlife encounters, or culinary journeys – we have thrilling new adventures in the works!
To all of our loyal visitors over the years who have made Giotours part of your family – thank you.
And to our associates, back office staff, guides, drivers and and all involved in the sucess of this season, we are here to support you, Thank you for giving always your best! 
We treasure every extraordinary experience together. Your enduring passion for discovering this country to our clients continuously motivates us.
And to newcomers just joining us this season – welcome! We cannot wait to share the beauty and culture of Costa Rica with you. Let the adventure begin!