Yes, there is one, and Costa Rica has the largest ox cart in the world in a little town called Sarchi.
Sarchí is the famous craft center of Costa Rica. The city has more than 200 shops and small factories that work with family businesses who work wood for generations. Made of wooden bowls, tableware, folding furniture, wood and leather furniture, and a wide variety of souvenir handicraft items.
The most popular items are elaborately painted ox carts, traditionally transporting coffee from the Central Valley to the port on the Pacific coast, currently in the canton where the world's largest wagon is located. The "Sarchí Ox Cart" has an internationally recognized design and quality, and is a true national icon.
Places to visit;
Church:
One of the most beautiful temples in Costa Rica, it has a vaulted wooden ceiling and carvings that were provided by the local artisans.
Handicraft Market:
Department stores as a shop selling handicrafts of all kinds, managed by a cooperative of artisans. (On the edge of Sarchí, along the road to Naranjo and next to the gas station)
The largest Ox Cart in the world:
Huge and brightly painted is located in Central Park in front of the church in North Sarchi. It was built in 2006 to put the name of the city in the Guinness Book of Records. The plan was a success.
---
Check this one out: Crocodile Safari and Canopy Tour
---
Some history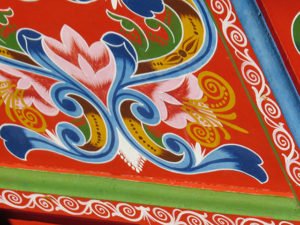 The name of Sarchí comes from the Aztec word "xalachi", which means "place of relaxing," open field or pasture.
Sarchí is the cradle of the crafts of our country of Costa Rica, is a national icon, as well as the artistic work in precious woods.
Its inhabitants have made their art a cult, and they express it by decorating their houses, bridges, buildings, among others. Something that marvels both domestic and foreign.
The Typical Trolley of Costa Rica was decreed National Symbol, on March 22, 1988, during the presidency of Dr. Oscar Arias Sánchez. It was declared a Masterpiece of the Oral and Intangible Heritage of Humanity by Unesco on November 24, 2005.
The city is located at an altitude of 1000 meters (0.62 mi) above sea level and is located on the slopes of the Central Mountain Range on the eastern edge of the Central Valley. It is located 27 kilometers northwest of the center of the province of Alajuela, and 46 kilometers from San José, the national capital.
And, believe it or not, we visit it! Check it out here!
---
Reference:
(2017, 11/09/2017)

.

Sarchi

.

[Weblog]

.

Retrieved

:

11 September 2017,

from: https://es.wikipedia.org/wiki/Sarch?

.